Field camp is a 400 (junior-senior)-level field course where students take what they've learned in the classroom and apply it in real geologic settings like Badlands National Park, Grand Tetons National Parks, White Sands National Monument, and more.  Our field camp is broken into a 1 week winter session and a six week summer session.
Places in the UL Lafayette Field Camp program are sometimes available to non-UL Lafayette students. We encourage all applications. Admission into GEOL 400 is granted by the Field Camp Director based largely upon the applicant's academic record up to and including current enrollment and the date of application. Generally one credit hour is granted for each week of field camp, however, if students do not participate in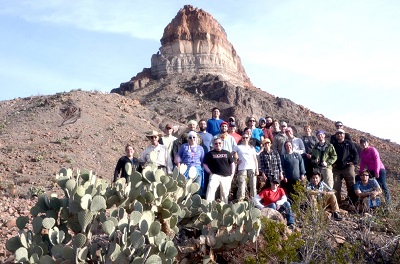 the Winter Portion, then 6 credits can be earned during the Summer Portion by doing additional mapping projects. Application forms and more information is available here.
Please contact field camp director Raphael Gottardi if you are interested! Send an email to Dr. Gottardi at gottardi@louisiana.edu
Winter Portion
Big Bend region. The initial part of our undergraduate field course is typically held between New Year's and the start of the Spring semester or between the end of the Fall semester and Christmas. Students are exposed to measuring sections and geologic mapping in the Big Bend region of west Texas.
Summer Portion
Rocky Mountains. In our summer field camp students are exposed to the geology of the Arbuckle Mountains of Oklahoma, and various aspects of Rocky Mountain geology, focusing on the structure and stratigraphy of the Bighorn Mountains and Basin of Wyoming, and the Black Hills of South Dakota. A mid-course field trip through Yellowstone and the Grand Tetons is a highlight.